==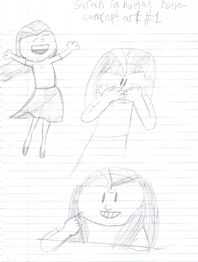 Warning: The following article contains SPOILERS
==
So if you read the title, I already ruined it for you.
"I knew Sarah had to become human if I brought her back"
Alex H-A
In Superhero Spectacle #38, Sarah is rumored to become hugged by Rosalina and Sarah's evil and darkness willl break off and Sarah will become a human for the rest of her life. After this, King Alexander is said to fall in love with her at Rosalina's suggestion because Rosalina likes Sarah now.
Interesting Fact
Edit
Sarah's transformation is based on
1. Ariel in The Little Mermaid
2. Jack Frost in The Santa Clause 3
3. Whatever probably happens in Daybreakers
4. One other thing, but I forgot what it is
Ad blocker interference detected!
Wikia is a free-to-use site that makes money from advertising. We have a modified experience for viewers using ad blockers

Wikia is not accessible if you've made further modifications. Remove the custom ad blocker rule(s) and the page will load as expected.