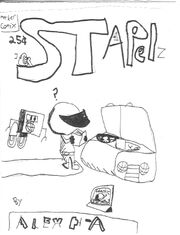 Story or Plot or Whatever it is
Edit
Captain Tonnybrow and 8-X9 are sitting around, listening to music on 8-X9's head radio. Captain Tonnybrow's pholletell (futuristic telephone) rings and Captain Tonnybrow goes to answer it, but doesn't know how to. 8-X9 yells at him to push the button and the pholletell jumps up against Captain Tonnybrow's finger and it's answered. Commander Tooforce tells Captain Tonnybrow that he has chosen him for a mission. He sends Captain Tonnybrow a list of food items he wants for breakfast (French Toast, Scrambled Eggs, and Canadian Bacon). Captain Tonnybrow and 8-X9 go to their Rocket Fridge (which Captain Tonnybrow doesn't know where it is). They go to France for some toast, get a bunch of eggs that are different color and sizes and put them in a carton, and go to Canada for bacon. When they've given Commander Tooforce the food, he yells that Captain Tonnybrow is a dummy, and Captain Tonnybrow, in his beanbag chair, thinks Commander Tooforce likes it.
Captain Tonnybrow does not have his visor's "white light stripe" yet.
8-X9 has angular arms and round hands. He is also more of a square shape.
On the front cover, there is food in the back of the Rocket Fridge, which should actually be in a dough tube because that's how all solid food is eaten in STAPelz.
Big Ben is in France, when it should be in London.
Colin Mochrie gives Captain Tonnybrow the bacon.
Captain Tonnybrow has a neck on the back, which should not be there and is a drawing mistake.