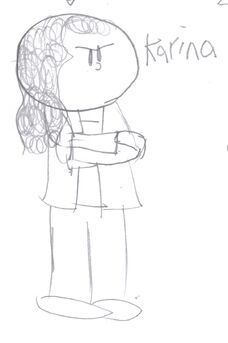 Karina is Chamilia's worst enemy in Lizard Girl. Not much is known about Karina, except for Karina and Chamilia have an "Drew Carey and Mimi" enemy-style relationship. At one point, Karina gives Chamilia a box that rattles and growls. Hannah asks Chamilia "Karina?" and Chamilia responds by saying "No, it's something she put in there." Ironicly, Karina is the first person that Chamilia (as Lizard Girl) saves from the evils of the Cartoonist.
Why is that name farmiliar?
Edit
Karina is based off of Karina Cerasoli (except for personality).
Ad blocker interference detected!
Wikia is a free-to-use site that makes money from advertising. We have a modified experience for viewers using ad blockers

Wikia is not accessible if you've made further modifications. Remove the custom ad blocker rule(s) and the page will load as expected.