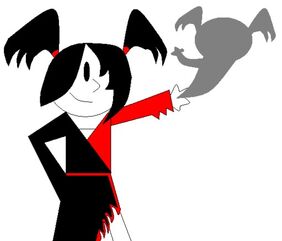 Analay/Shadow Girl is the 8th superhero in the Superhero Spectacle.
Analay came from a planet where the people living there could control their own shadows because shadows were living things there. The planet was destroyed. Fortunately, a spaceship was able to send Analay (as a baby) to Earth. However, she landed there in the Middle Ages.
For years, she was avoided because she had no shadow and everyone thought she was a witch. However, when she became 18, she went to a wizard who told her about herself. He showed her that she had the power to control her shadow. She went to King Alexander and became the royal super guard.
Analay is based on a girl from an AVATAR: The Last Airbender comic who was a 'shadow bender'.